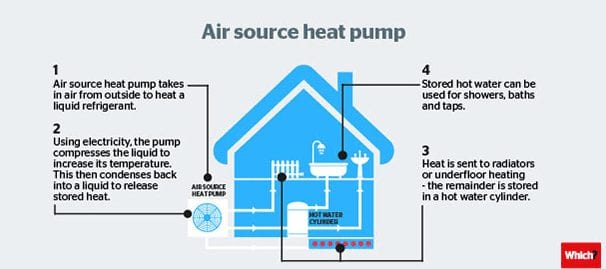 Heat pumps
At new boilers we supply and install air/to water heat pumps. We only install joule heat pumps due to their outstanding components. Their cylinders are made with high-grade stainless steel and would also replace your existing cylinder in your home. This is not just a cylinder but it is a buffer tank also which is now your boiler. The cylinders come pre plumbed and wired for ease of installation.
The heat is produced outside by a Samsung unit, which extracts the heat from the outside air temperature and converts it to hot ware for your heating system.
Unlike a standard boiler which runs off much higher temperatures, heat pumps run at a much lower temperature thus making it way more economical. They still consume a small amount of electricity to run, but it's a goodbye to oil/gas.
Due to the complexity of heat pumps, you could not possibly give a quote off the bat, as your home would need to be up to a certain standard with regards to your insulation, doors and windows. This system works well in most new builds, and when it comes to retrofitting to existing homes where we specialise ,there is a bit more homework to get it right.
Give us a call and we will talk you through what's involved and associated costs. Next we will send one of our ber assessors to your property to assess your home, to see your radiator sizes etc and what needs to be done to obtain a correct complete upgrade and then we will furnish you with a detailed list of works needed to complete and an exact quotation for the same,and also discuss what grants are available to claim towards the cost also
For more info heat pumps and SEAI GRANTS click here.